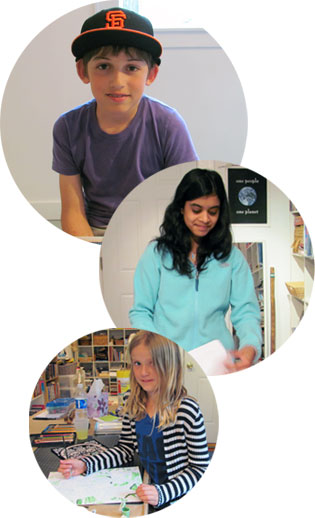 The Tutoring Academy: Praise from Parents...
"The one on one work on writing skills and careful reading that my son has done with Sharee has been immensely successful. Sharee's gentle manner and warm personality provided the kind of nurturing environment that was conducive to creative expression and exploring ideas. Under her guidance, he produced several writing pieces that were both well organized and fully reflective of his developing voice. She also introduced him to age-appropriate but challenging literary classics. Together they read and discussed The Catcher in the Rye, the poems of Langston Hughes, as well as several other pieces...
Sharee's personal creativity, enjoyment of literature and the writing process, and affection for children cannot help but produce positive results..."
"Ms. Chapman is an extraordinarily talented teacher who has the rare gift of taking students with disparate levels of ability and ensuring that everyone feels challenged, inspired and valued. She is able to assess quickly the individual needs of each student, and provide specialized curricula appropriate for each one, while still maintaining a positive group dynamic. She uses creative techniques, such as story-telling, play acting, arts and crafts to excite her students and building their love of, and interest in, literature, creative writing and grammar.
With her warmth and humor, it is easy to understand why every one of her students loves and admires her. She treats each child with respect and requires that the children treat each other in the same way. She brings integrity and dignity to her work, and it shows in how our children respond to her and to each other. My daughter has had the wonderful opportunity to be instructed by Ms. Chapman during three separate, multi-week book clubs. As each one ended, the first thing my daughter asked was, 'When does the next book club start?' I know that my daughter is not alone in her enthusiasm..."
"Sharee's enthusiasm for reading and writing influenced and fortified our daughter's interest and confidence. She enjoyed her sessions and became a more frequent reader, both at home for story hour and even in the car when her book had a scene that she found particularly amusing. She soon was achieving or exceeding state-required benchmark standards for her grade level. We are grateful for Sharee's sensitivity to our daughter's imaginative style and particular challenges. She has a friendly manner and an affinity for kids, and is skilled at fostering a comfortable environment for learning while still having fun..."
"She is a wonderful professional tutor who has also helped my son learn better study habits and sparked his interest in reading. She knows children's literature very well and has a gift for guiding and helping children learn to love the reading experience. I am very thankful for her knowledge, professionalism, patience, love of children and charming personality..."
"Sharee spends a great deal of time in preparation, not only in a general way, but tailored to the specific needs of the student. When a session has ended, she spends time with the parent summing up the progress of the day and gives suggestions for the week ahead. It is obvious she is genuinely involved with her students, not only during her time with them, but also in her understanding of the profession and what is needed to motivate, inspire and progress. She has a good understanding of a child's abilities, how to enhance their weak areas, and motivate them in a nonjudgmental way..."
"Sharee is very good at putting my son at ease and making him feel comfortable and confident as he continues to strengthen his reading and writing skills. She has become a loving and guiding force in our lives. She takes a genuine interest in the families of the children she tutors.
She is organized, efficient, extremely competent, and has a warm and friendly way with people of all ages. She communicates with me regularly about my son's work and is always available to conference in person, via e-mail, or phone.
I am deeply appreciative for all that Sharee continues to do for my son, and for the seeds of enthusiasm that she has planted on his road to reading and spelling..."
"You really inspire our daughter and have a great rapport with all kids..."
"Our daughter is growing in so many ways—it's just fabulous.."
"I went to my daughter's teacher conference last night. She is impressed with your teaching methods and reports that our daughter is doing much better in her reading. She apparently stood right up and read this week with fluency and inflection. Isn't that great!"
"Our daughter absolutely LOVED your book club! She has been so excited about it all weekend. She had the best time and said she wished that it would be every Friday!"
"That kind of dictionary sounds great. He really enjoys your meetings. I can't tell you how great it is to know he's getting this extra support from you..."
"I just wanted to let you know how much we appreciate you. It's fabulous that you have opened up a whole new world for our daughters. They both really enjoy working with you..."
"Yay! Thank you so much for your good work on this—both in the tutoring and in the negotiations with the school! I not only see her reading improving, but her confidence across the board. You are a godsend..."